Ever since Microsoft announced the Windows-7 OS, I was curious and so were millions of Windows users. Well I personally did not like the Vista OS for the primary reason that it simply overloaded the PC. A typical Vista installation treacherously occupies 7GB of space on the hard-drive and demands a minimum of 2GB of RAM only to start with. When I bought a laptop last year, it came with a Vista Home Premium OS preloaded. I could literally not use it for more than a month. I felt all of that fuss was unnecessary. I soon setup a dual boot with Windows XP (by far the best OS ever from Microsoft). I'm happy with XP. But the buzz around Windows7 appears more than just hype.
Going with the buzz on the internet about Windows7 since its release in mid June '09, the OS seems to have taken in some performance improvements as compared to Vista. Though soon as you install the Windows7, you might feel its not any different from Vista, there seem to be some good advancements. I would list down my findings and comments about 'How does 7 fare against Vista and XP – a comparison' in a separate post a little later on as I use the new OS.
Without wasting much time, lets quickly see in a few steps, how to add Windows7 to our existing OS configurations thus setting up a dual boot (in-case you already have Vista or XP alone) or triple boot (in-case you already have a vista and XP dual boot).
As of this writing, Win7 is a beta version and is available for free download on Microsoft.com. If you already have a copy of Windows7 OS on a bootable DVD, you could skip the first two steps.

Download an evaluation copy of Windows7

:  You could download it here. Evaluation copies are generally .iso files which you can burn on to an empty DVD.

At the beginning of the download process, you are presented with an activation key for the OS, Note it down or save the web page for reference.
The download page seeks to run an ActiveX control to start the download application. Select a location of your preference and start the download. The copy I downloaded was around 2.55GB and it finished in roughly 5 hours.

Create a Windows7 bootable disc: You can use a DVD burning s/w of your choice and burn the downloaded .iso file on to an empty/rewritable DVD. I used Nero express.
Do you have a separate HDD partition for the windows7 already? If not create one (of at least 16GB). You could create partition using the disc management tool either from your existing XP or Vista OS.

Windows Vista has built-in tools to re size active partitions, but XP does not. XP users can alternatively use a third party tool like Gparted. You could download a copy here. Burn it on to an empty/rewritable CD and boot from it. Please refer to the GParted documentation for instructions.
Vista users

type 'diskmgmt.msc' in the start-search bar. The Disc Management application launches. You could choose to shrink one of the existing active partitions. You could shrink an existing drive by about 20 GB (at least 16GB recommended).
Once this is done, you should see unallocated space on the disc. If your existing drive was C: or D:, you would want the new partition to be D: or E: respectively. But this letter would have been currently allotted to the optical drive. So first rename or re-allocate the drive letter of your optical drive(s) to one letter higher (E: or F: respectively).
Right click on the new empty partition, click on 'New simple partition..'. Format the drive to NTFS and label it to D: or E:
Lo! we have a brand new partition!

Install Windows7:

Put the newly created Windows7 installation DVD in the optical drive and reboot the machine. While it is starting, make sure that it boots from the optical drive. If it doesn't, use the boot setup (for my Dell laptop I've to press F12 to launch a boot sequence menu) or set it the boot sequence to DVD and HDD by editing the BIOS settings.
The Win7 boot application opens up with this screen
Select the Custom mode. On the screens that come next, you are prompted to choose a drive, choose the newly created partition and continue.
During the installation, the application prompts for the activation key, enter the key you noted down in step1.
The installation takes around 30-35 minutes and there we have it!
The dual/triple boot is automatically setup ( this is probably the case since win7 is still an evaluation copy) and the boot menu appears similar to this one: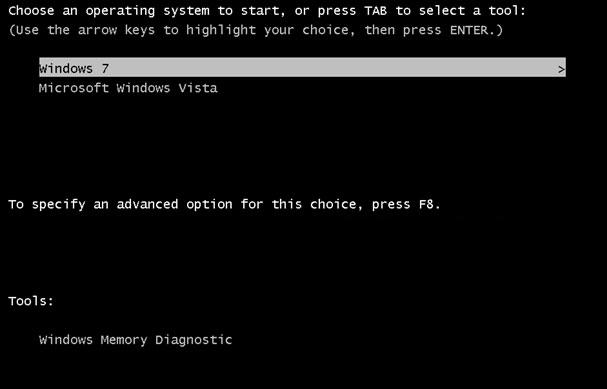 But in case you wanted to customize the boot menu, download this simple utility called EasyBCD here. Install the application and launch it. Choose the 'Change Settings' tab. In 'Global Settings' section you can change the default OS from the list and the timeout too.
In case you want to edit the text displayed in the boot menu, you could do that from the 'Entry-Based settings'. I edited both the settings. I chose XP as default, timeout as 10 sec and the list as shown under.
Conclusions:
Apart from the dual boot being setup automatically, I have observed the following:
1. When I boot into Windows7, the OS drive is appears as C: while the other drives got renamed. But when I boot into Vista, I see that Vista drive is C: and the Win7 drive is D:. Guess this confusion gets sorted out with the actual version of Win7.
2. I did not need to install any drivers! Yeah that's true. My Dell XPS M1330 seems to be working right away. Sound, video, wireless etc are installed already. The web-cam did not work yet though, I guess I would have to install its drivers.
I would use Windows7 today-on and update my review on a separate post – 'How does 7 fare against Vista and XP – a comparison'.
Please comment on how helpful this post has been to you and also on your initial reaction about Windows7.
Thanks for reading.